Thursday, March 10, 2005
Notes on Demand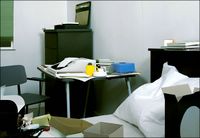 Some notes clipped pretty much verbatim from the notebook I was using as I wandered the Thomas Demand show at MoMA last Sunday.
The work has a hard time standing on its own. It needs to be propped up with something. Here's one show that would actually benefit from more wall text.
Could one make an argument that Demand has created a new form of abstraction? While his work contains recognizable objects, it's not representational because viewers can't punch through to the objects' referents without having additional information that doesn't exist within the work itself. If, historically, abstraction was a reduction of artistic practice to form, materials, and process, Demand could be called an abstractionist.
Because the technology is still relatively new, large face-mounted photographs seduce people. The medium tends to get off the critical hook too easily.
The work removes us too far from the real world of explosions and cooking and dappled forest sunlight without really providing us a reward for undergoing the process of removal. Maybe this is a stretch, but Brecht did something similar for the theater with his "alienation effect." He removed the audience's ability to relate or sympathize with any character from his drama. The power of a Brecht play comes from this removal of a natural part of the theater-going experience. The experience of viewing Demand's work, though, is not heightened by or dependent on the removal from reality upon which he bases his work.
A fun assignment: calculate how many layers of remove from reality there are in any one of his photographs.
How does Demand compare to the other young Germans? Gursky gets daily life in all its complexity at a precise moment in time. Hoffer gets built and ornamented space. What does Demand get?
Demand makes art for people who like the idea of art, not art as idea.
Thomas Demand (at MoMA) runs through May 30, 2005.