Thursday, November 04, 2004
Price Transparency and a Few Fall Auction Picks
This weekend New York's three major auction houses open their doors for previews of next week's contemporary art auctions.
Christie's
,
Sotheby's
and
Phillips
all host viewings Saturday and Sunday. See their websites for hours and locations.
I've
written before
about how increasing price transparency in the market is a good thing for all participants. With the fall sales, these three brokers are taking quite different positions on the issue.
Phillips has not even bothered to produce an on-line catalogue for this sale--something that has become a required-to-play item in the business. Transparency can't exist if such basic information as what's on offer needs to be purchased through a catalogue subscription (price, $140 annually). (
Update:
Better late than never. Phillips has, finally, come through with an on-line catalogue--
evening sale
,
day sale
.)
Christie's does make its
catalogue
available on-line prior to the sale (along with specialist commentary on select items) but does not provide on-line, searchable access to sale prices for works sold more than 30 days in the past. Historical sale prices are available through the website, but items are only identified by sale and lot number--again, requiring purchase of a catalogue subscription to match items with prices.
Sotheby's has held the lead in price transparency by making access to historical pricing available with its
Sold Lot Archive search
. This feature provides complete transactional information for all works sold through the firm since 1998. This fall Sotheby's extends its lead by making complimentary access to Artnet's pricing database available for works going on the block. (Free registration is required to access Artnet data.) Sotheby's still has work to do to wash away the stain of sins of the past, but they are making much more progress in that area than their competitors.
Earlier this week I paged through the three Sotheby's catalogues and pulled out a few totally subjective picks that I'll make a point of seeing there on Saturday.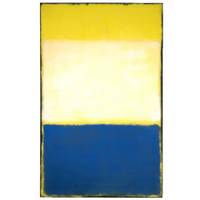 Evening Sale (November 9)
Mark Rothko,
No. 6 (Yellow, White, Blue Over Yellow on Gray)
, 1954
Joan Mitchell,
King of Spades
, 1956
Morning Sale (November 10)
Wayne Thiebaud,
Avocado Salad
, 1962
Afternoon Sale (November 10)
Annette Messager,
Untitled (From the Mes Voeux (My Wishes) Series)
, 1989
Doris Salcedo,
Atrabiliarios
, 1993
Tim Rollins and K.O.S.,
The Red Badge of Courage V
, 1986-87
I don't plan to do any bidding next week, but I've
mentioned before
how I would love to own a Doris Salcedo from the
Atrabiliarios
series. I'll be happy to provide a shipping address to any generous reader who is interested in the fact that I have a birthday coming up soon.