Saturday, November 06, 2004
Picks and Pans
Impressions from a couple hours browsing Sotheby's fall contemporary preview.
I wasn't disappointed with any of the items I mentioned on Thursday. (There were serious condition problems with the Doris Salcedo work, but I'm planning to write a separate post on that later.) The
Rothko
was the star of the show--totally stunning.
Joan Mitchell's
King of Spades
is as good as Mitchell's work from the late-1950s gets. The work was bought in at Christie's when it went on the block in 1999. But with Mitchell's reputation on the upswing after the recent traveling retrospective and with the market continuing to strengthen, I'll be surprised if the work doesn't break the $1M barrier. This is a work that ought to find a home with a good, regional museum. It would be a shame if it ends up being bought by an individual and disappearing from view.
Several pieces stood out at the preview that didn't in the catalogue:
Alexander Calder,
Untitled
, 1946
Joseph Cornell,
Untitled (Penny Arcade Series: Eden Musee Waxworks Childhood)
, c. 1960
Wayne Thiebaud,
Various Pastels
, 1972
Felix Gonzalez-Torres,
Untitled
, 1991
Dan Flavin,
Untitled (To Greta Garbo)
, 1993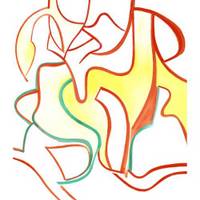 Once you get beyond the marquee works, auction previews tend to feel like rummage sales--really expensive rummage sales. I can't help but wonder who in the world would pay in the estimated price range for works like these:
Tom Wesselmann,
Great American Nude
, 1965
Andy Warhol,
Ladies and Gentlemen
, 1975
Andy Warhol,
Diamond Dust Shoes
, 1980-81
Robert Rauschenberg,
Esplanade
Willem deKooning,
Untitled XII
, 1985
Oh, wait. I know
who buys
this stuff.
Finally, make sure not to miss what passes for humor in the auction world. Here's the final lot of the three auctions, a
Ryan McGinley photograph
. When this piece goes, it means all the fun is over.